WORKSHOPS & PRESENTATIONS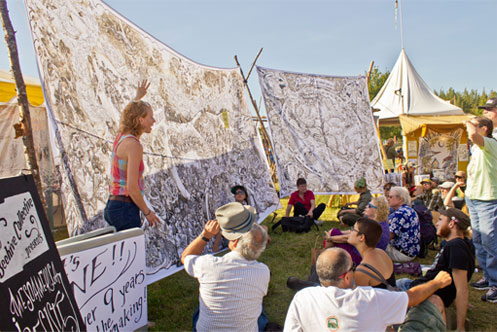 About Our Presentations
The Bees have spent over ten years developing an innovative and story-based education strategy that we share through a variety of interactive, image-based presentations and workshops.
We go to big to-dos and small ones, too; classrooms of all kinds, college auditoriums and lecture halls, church basements, demonstrations, conferences, community spaces, coffee shops, galleries, punk houses, rotary clubs, backyard shindigs, and probably whatever else you throw at us. We enjoy working with all sorts of people; folks from many cultures and places, with diverse backgrounds and ways of understanding the world, and all varieties of ages.
In our workshops and presentations we use giant, portable murals to deconstruct complex issues of globalization, climate change, colonization, and resource extraction. We strive to provoke discussion, raise hard questions, and share hopeful stories about actions big and small we can take to build a better world. We offer different styles of workshops and can adapt our storytelling to many contexts. If our current workshops don't seem like a good fit for your group, we are happy to talk with you about other options!
Current Workshops
The Bees host picture-lectures and interactive workshops that can be understood by anyone, not just the experts and political analysts! Join in as we deconstruct the complex and overwhelming issues that are shaping our world, using bio-regionally accurate depictions of animals and insects as metaphors to link cultural and ecological diversity.
We can tailor presentations to suit your needs, whether it be facilitating a more interactive workshop instead of a lecture, or tying in locally relevant content. Just include a comment when you Book The Bees to start the conversation.
We are currently offering the following presentations, though not all workshops are available in all regions at all times, due to our decentralized swarm…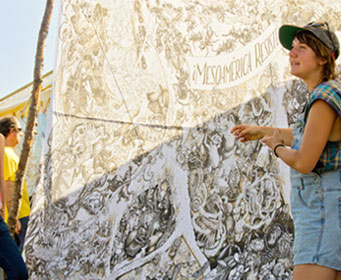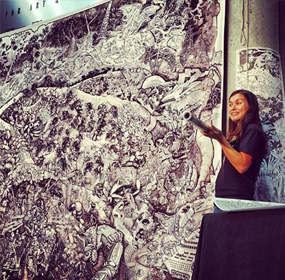 Mesoamérica Resiste
Mesoamérica Resiste is our most recently completed narrative poster, an epic project that took nine years to complete! This is the third and final installment in the Beehive's trilogy on globalization in the Americas. The intricate, double-sided image documents resistance to the top-down development plans and mega-infrastructure projects that literally pave the way for resource extraction and free trade. We highlight stories of cross-border grassroots social movements and collective action, especially organizing led by Indigenous peoples.
While focusing on stories from Mexico and Central America, the Bees will weave a much larger narrative about ways people are fighting back against a global economy based on colonialism, land grabs, and exploitation, and building alternative economies, all over the globe – including connecting to ongoing struggles in North America. This graphics campaign also celebrates cultural and ecological diversity through a cast of characters that includes hundreds of endemic (and endangered) species of insects, animals, and plants.
The True Cost of Coal
The True Cost of Coal graphic uses mountaintop removal coal mining in Appalachia as a lens through which to understand the historical and contemporary story of energy and resource extraction. With a gigantic portable mural teeming with intricate images of plants and animals from the most biodiverse temperate forest on the planet, the Bees will share (and seek) stories of how mountaintop removal coal mining affect communities and ecosystems throughout Appalachia and beyond.
Long exploited as a resource-extraction colony within the US, the Appalachian mountains are home to a fight for survival which has determined, in part, the industrial power of this country. Without coal, mined at a great cost to Appalachian communities, there would be no 'cheap' electricity. Today's energy corporations and government bodies are continuing to show the extent of their greed and short-sightedness as they push their extractive agendas in the "New Coal Rush." We will expose the deceptions of "clean coal" technologies and bring to light the root causes of the climate chaos the planet is facing today.
The True Cost of Coal examines all of our connections to coal, while celebrating stories of struggle from mountain communities. The last chapter of the story also looks to the future, raising questions about alternatives, remediation, and regeneration.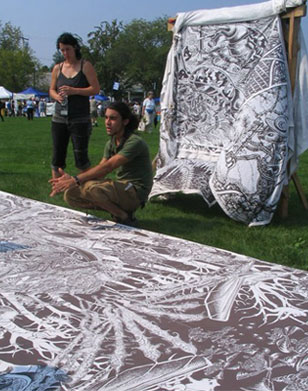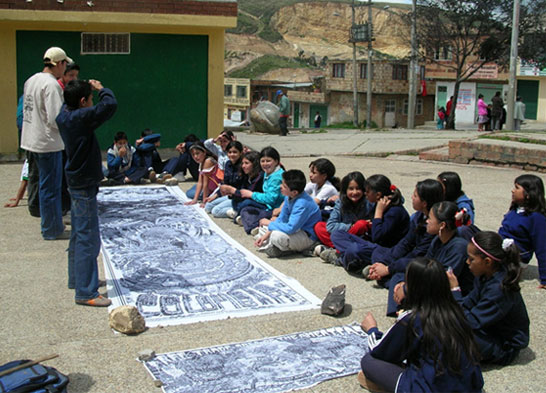 Dismantling Monoculture
The Dismantling Monoculture picture-lecture weaves together images and stories from the past 10+ years of our work, featuring the Beehive's trilogy about globalization in the Americas: the Free Trade Area of the Americas, Plan Colombia, and Mesoamérica Resiste graphics campaigns.
With giant portable murals and an engaging narrative, the Bees take audiences on an interactive visual tour of the connections between colonization, militarization, and resource extraction. This presentation grows and evolves with each telling. The Bees hope to share and seek stories about how these themes manifest in our daily lives and what people do to resist and regenerate. The result is a compelling and inspirational chronicle of struggle and resistance in this era of immense change.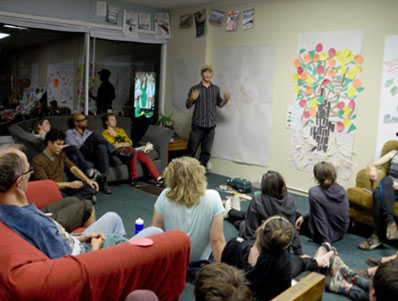 Graphics For the Commons:

Collaborative Graphic Design for Movement Building
Whether on flyers, websites, or on the street – graphics are a crucial element of any successful campaign. In this hands-on, participatory workshop, the Bees will share strategies for educating and organizing with images. These art-based tools are useful for collective analysis, collaborative design, and building connections between activists that use words, and those that speak in pictures.
The Beehive Design Collective has evolved a unique approach to "cross-pollinating the grassroots" by building campaigns around our graphics and using them to engage diverse audiences. We'll introduce an array of tactics for collaborative image design: Participants will take brainstorming to a new level through web mapping and drawing exercises that can be used with any group to generate relevant and strategic images. We'll generate a list of filters like the ones that we use to avoid the potential pitfalls of working with pictures. We'll also explore methods for those that don't feel comfortable drawing – like teaming up artists with organizers or using web based image research.
This workshop can be extended to include a hands-on printmaking section, where Bees will share simple and cost-effective techniques for bringing your ideas to life.