THE TRUE COST OF COAL
THE STORY OF THE TRUE COST OF COAL GRAPHICS CAMPAIGN
In 2008, the Beehive allied with Appalachian grassroots organizers fighting mountaintop removal coal mining, a highly destructive practice that blasts ancient mountains into toxic moonscapes to fuel the ever-growing global demand for electricity. After more than two years of on-the-ground research, story-sharing, metaphor crafting, and meticulous drawing, including collaboration with hundreds of grassroots groups and folks from around the world, we released the True Cost of Coal graphics campaign in 2010.
This graphics campaign reflects the complexity of the struggles for land, livelihood, and self-determination playing out in Appalachia, and was made with the intention of honoring the tremendous history of organized resistance and the courage of communities living in the shadow of Big Coal.
The Appalachian mountains are where the most biodiverse temperate forests in the world are found, and this graphic is teeming with bio-regionally accurate plant and animal species that are both ecologically and culturally significant to Appalachia. A full cast of characters by their common names is available in the narrative.
This visually stunning graphic serves as a multi-tool for activists and other folks seeking real solutions to energy extraction and climate change. We are all impacted by coal, and we all play a part in the system that demands coal as fuel. Almost half the electricity in the U.S. today still comes from burning coal, the dirtiest energy source on the planet. Mountaintop removal is a human and ecological drama wreaking havoc on coalfield communities, folks downwind and downstream of coal-burning power plants, and all of us faced with catastrophic climate change. The True Cost of Coal graphics campaign is helping more people share stories, find their place in the big picture, and take action to build a just and ecologically sound future.
HOW TO USE THIS POSTER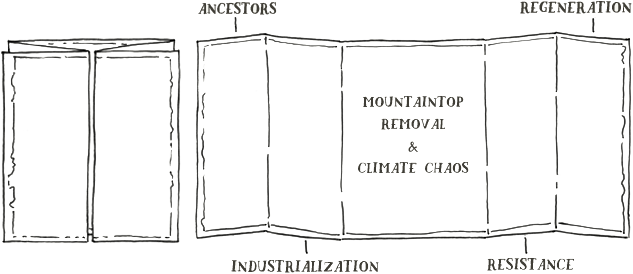 This graphic is a folding poster inspired by the back cover of Mad Magazine (yes, really!). The closed poster depicts an intact mountain landscape, bursting with biodiversity, clean water, and interconnectedness. We see the Appalachian Mountains from the ground up, from the point of view of those who live there. When the poster is pulled apart, a very different landscape is revealed – one of exploitation and extraction, of toxic contamination and privatization of resources.
Opening the poster literally splits apart the mountain range, and the first image you see is of a mountaintop removal site, where explosives are blasting the mountain, and a dragline is symbolically scooping away a whole community in its enormous bucket. The bigger story unfolds chronologically from left to right, tracing the epic history of coal in a series of five chapters. Along the bottom of the poster are stories from Appalachia. As you move up in the image to the top of the poster, the stories become national and global in scope.
Learn more about how to Use Our Graphics!
PLEASE SHARE YOUR FEEDBACK
Our Graphics Campaigns are always works in progress. Your comments and suggestions will help strengthen our education and cross-pollination strategy!
thank you!
ACKNOWLEDGEMENTS
We're grateful for the collaboration and contribution of many organizations who have strategized, shared, and supported this project:
Alliance for Appalachia
Appalachian Community Fund
Appalachian Studies Assc.
App. Staple Foods Collaborative
Appalachian Voices
Appalachian Women's Alliance
Appalshop & AMI
Artist Project Earth
Aurora Lights
Berea College
Black Mesa Indigenous Solidarity
Black Mesa Water Coalition
Blue Ridge Earth First!
Christians for the Mountains
Clearfork Community Institute
Climate Ground Zero
Coal River Mountain Watch
Concerned Citizens of Giles County
Counter Cartography Collective
Dave Cooper's MTR Roadshow
Here's To The Long Haul
Highlander Center
High Rocks Camp for Girls
Indigenous Environmental Network
Keepers of the Mountains
Kentuckians for the Commonwealth
Mountain Justice
N. Plains Resource Council
Ohio Valley Environmental Coalition
Outta Your Backpack Media
Pine Mountain Settlement School
Provisions Learning Project
Real Cost of Prisons Project
Rising Tide North America
Rrenew Collective
Statewide Organizing for Community Empowerment
SEAC
Sludge Safety Project
SouthEastern Community College
Southern Appalachian Mountain Stewards
Southerners On New Ground
Thousand Kites Project
United Mountain Defense
Wisdom Keepers
Woodland Community Land Trust
and many many individuals, friends, family, high schools, and colleges who gave advice & hosted us on Tour! THANK YOU!