MACHIAS VALLEY GRANGE HALL
Our Local Work is currently dormant, the information displayed is for archival purposes. We will update this page when any activity in Eastern Maine resumes.
Events & Booking
The Beehive Collective maintains the historic Grange Hall in Machias as a non-profit cultural center, open to the community as a meeting hall and gathering space for a wide variety of free public events and private parties as well. There is no fee for using the Grange Hall, though donations are welcome and go towards building maintenance. The Grange Hall is a drug & alcohol free space.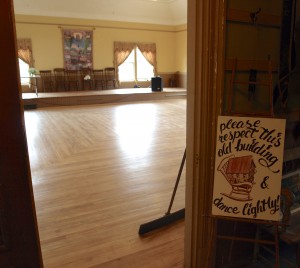 Interested in holding an event at the Grange?
Email [email protected] or call 207-669-4117
1 Elm St, Machias, Maine 04654
next to Bad Little Falls Park
Upcoming Events!
HISTORY
The Machias Valley Grange Hall was built between 1905 and 1907 by the local chapter of the National Grange (Patrons of Husbandry). The local chapter formed in 1903 and officially registered with the National Grange in 1905 as Grange #360. Founded in 1867, the National Grange is "a non-profit, non-partisan, fraternal organization that advocates for rural America and agriculture. With a strong history in grassroots activism, family values, and community service, the Grange is part of more than 2,100 hometowns across the United States."
The Machias Grange Hall was a thriving community center and a meeting place for the local Grange for many decades, up into the early 1990s. As membership in the local Grange dwindled, and maintaining the building became more challenging, the building went dormant for a little while and was up for sale.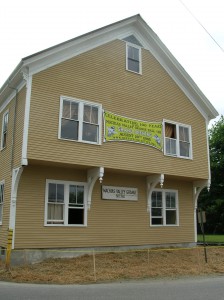 In 2001, the newly formed Beehive Design Collective bought the Grange Hall and started to get to know the local Grangers and the history of the building, sparking a collaborative restoration project. The building was reopened to the community in 2005 after five years of dedication, love, and elbow grease from the Beehive, the local Grangers, the Machias community, and swarms of volunteers from near and far.
In 2007, the Maine Historical Society recognized this volunteer-led restoration effort with the State Historic Preservation Award. The Machias Valley Grange Hall was also placed on the National Registry of Historic Places in 2007, and a good overview of its history is documented there. See the Maine State Grange site for more history about Granges in Maine.